Commander Skills
Every commander has 4-5 skills, one active skill and 3-4 passive skills. Epic and legendary commanders' 5th skills may be an enhancement of one of the other 4 skills, or a new passive skill.
Skill Talent Tree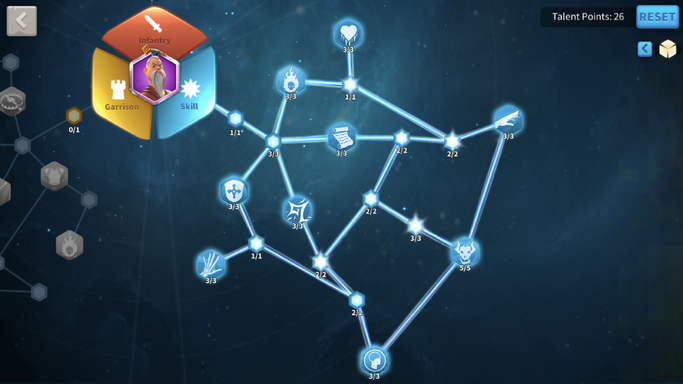 Talents
Talent Points (50)
Attack
Rage Bonus
Defense
Health
March Speed
Active Skill Damage
Additional Skill Damage
Skill Damage Taken or Taken Reduced
Defense
6
3%
Attack
5
2.5%
Health
4
2%
March Speed
2
6%

All For One After the primary commander uses a skill, active skill damage of the secondary commander is increased.

3
6%

Tactical Mastery Increases active skill damage.

3
3%

Burning Blood Normal attacks grant additional rage.

3
9

Heraldic Shield Reduces skill damage taken.

3
6% (Reduced)

Latent Power Enhances additional skill damage.

3
6%

Naked Rage Increases skill damage dealt, but also increases skill damage taken.

3
6%
6%
6% (Taken)

Rejuvenate Instantly restores rage whenever a skill is used.

3
60

Clarity After using an active skill, increases skill damage for the next 6 seconds.

3
6%
6%

Feral Nature

Normal attacks have a 10% chance to grant additional rage.

5
100
Trending pages
All items (22)
Community content is available under
CC-BY-SA
unless otherwise noted.